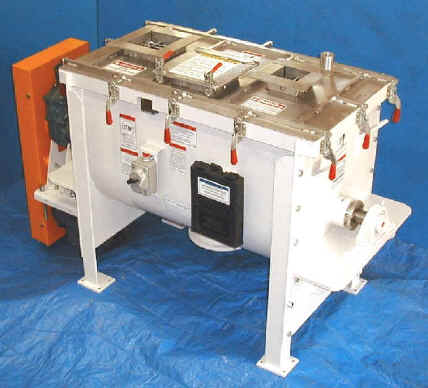 This Model 193 Horizontal shaft paddle mixer is used as an agitated storage reservoir and feeding device to feed plastic pellets and compounds into the inlet of an extruder. Gross vessel capacity is 9 cubic feet. Nominal working capacity is 6 cubic feet. A 3 HP drive turns the mixer's tool arms and mixing tools at 40 RPM. The mixer discharge feeds product directly into the downstream extruder with no intervening discharge gate.
Views above illustrate the aluminum top cover, the 3 HP drive and the mixer discharge with no discharge gate for feeding agitated product directly into the downstream extruder.

Removal of the gasketed aluminum top cover is accomplished easily through the hand release of quick acting clamps. Note the protective interlocking limit switches and protective grates. The cover weighs a mere 20 pounds.

Interior view of the mixer above illustrates the heavy-duty shaft, cast steel tool arms and the adjustable agitation tools.